Planning the Best Location
Here are some of the things that you will need to consider when determining where to place your spa: If you still have questions do not hesitate to ask the pros at Sensational Spas. We have years of experience and have installed hundreds of hot tubs. We will gladly come to your home and answer any questions and offer you some ideas. There is no charge for this service and it could make your job a whole lot easier.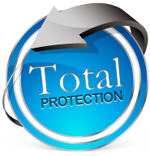 Safety First!
Do not place your spa under overhead power lines. Try to stay at least 10 feet to the side of any overhead wires. Be certain that your installation will meet all city and local safety codes and requirements.
Environment
We have cold winters and hot summers. To combat the summer heat you may want to locate your spa where the sun doesn't shine on it all day long. You don't want the spa under a tree, however a tree to the side can sometimes block much of the day's sun. Also try to locate the spa near a house entry door. This way you don't have to trudge through a lot of snow. Do not place your spa under eves as icicles can fall off and damage both the cover and the spa.
Indoor installations require adequate ventilation. When the spa is in use, considerable amounts of moisture are produced. This moisture can damage walls, floors and ceilings. However you can over come these issues by planning ahead. A simple ventilation fan will remove much of the air born humidity. You can apply water proof paints and flooring materials. Try to use flooring materials that don't become slippery when they get wet. Hot Tubs can leak – consider this when thinking about installing a hot tub indoors.
Keep your Hot Tub Clean
Prevent dirt and foliage from being tracked into your spa by using concrete or pavers for paths to the spa. Check the location of trees and spill paths from gutters to see if wind or rain will sweep debris into the spa.
It is best that you do not place your spa under a tree. Cleaning tree sap off the spa is no fun either. A fallen branch can easily damage the cover and the spa.
Consider Your Privacy
In a cold climate, bare trees won't provide much privacy. Consider the view of your neighbors when you locate your spa. You can always build an inexpensive lattice type fence on any side you want to block out. A lattice fence will allow you to see out but still block you from the neighbors.
Provide a View with Your Spa
Think about the direction you will be facing when you're sitting in the Spa. Do you have visually aesthetic landscaping in your yard? What about the sunset? Consider these things when you plan your location.
Preparing a Good Foundation or Spa Pad
A spa needs a solid level foundation. A spa cannot be set on the grass! The area where the spa sits must support the weight of the spa, the water, and those who use it. If the foundation is inadequate, it may shift or settle cause severe stress to the spa's shell and frame. Many spas filled with water and people can weigh over 5,000 pounds!
So what do I use to set my Spa on?
Well actually there are many things you can use. We are going to call all of these surfaces the spa pad. The spa pad can be made of pressure treated lumber, synthetic lumber, concrete, bricks or cement patio blocks. For those who don't want to build, Sensational Spas has prefabricated polyethylene plastic pads in stock. (See section below) A solid cement pad should be no less that 4 inches thick. This is something that the average homeowner may not want to tackle. The spa pad should be at least the size of the spa.
If you are going to pour a cement pad put a slight slope in it so that water won't pool under the spa. A 3/4″ slope in a 10 foot wide cement pad is adequate. If you use bricks or patio blocks, they should set on at least a 3″ base of sand, pea gravel or crushed stone. Sod and roots must be removed before applying the aggregate base. Remember, the base must be under the entire spa. Don't leave out every other block!!! When using bricks or blocks there is no need to slope the pad because water will drain off in between the blocks.
Building or using an existing deck:
Many spas are placed on existing decks. Most newer decks that have been built to code will support all but the largest spas. It is best to talk to a licensed home builder or an architect to be sure. In general if you have a deck or are going to build a new deck the following parameters will support most hot tubs. Always use treated deck lumber. Use 2″ x 10″ floor joists on 16″ centers and metal joist hangers to support them.
Use metal lag bolts or carriage bolts for all the major joist, beam and header connections. Nails and deck screws won't hold the load. If the span exceeds 10 feet you will want to put a center beam halfway between the span. Posts that hold up the deck are normally made from 4″ x 4″ or 4″ x 6″ treated lumber and spaced no more that 4 feet apart. These posts should be cemented into the ground with a footing pad under the post. This will keep the post from sinking over the years. There are also footing blocks that you can purchase, talk to your building supplier.
For the surface boards, it doesn't matter if you use wood boards or the new synthetic deck lumber. The choice is up to you. Remember: spas are heavy, your deck will need to support at least 140#'s per square foot, that equals a load of 6860 pounds! That sounds like a lot of weight and it is, but it's very easy to build a wood deck to hold that weight and more. There are many books on building decks. Pick one up at your building supplier; they're worth the cost.
Prefabricated Spa Pad
Don't have the time or energy to build the Spa Pad yourself? Sensational Spas has an alternative. It's a prefabricated portable hot tub pad. This pad is made of high density polyethylene plastic, crush tested to over 5000 pounds per square foot. The EZ Pad is rugged and durable with excellent resistance to impact and abrasion. This light grey pad requires no maintenance.
You can place EZ pad on any level well-drained area, including grass, dirt, sand and gravel. It's also a simple way to extend your patio or deck space. The pad comes in 4 pieces and will fit in most SUV's. The pad can be assembled and be in place in less than a half hour. Start enjoying your new spa even sooner! We have the EZ Pad in stock at Sensational Spas.
Plan the Delivery Route
Check the width of the gates, doors and sidewalks to make sure your spa will pass through unobstructed. You may have to remove a gate or part of a fence to allow for adequate width clearance.
We can turn the spa on its side, so a 42″ wide gate will generally accommodate most spa sizes.
If the delivery route will require a 90 degree turn make sure there is room to make the turn.
Are there protruding gas meters, water meters or A/C units in the way.
Are the low eaves, branches, or downspouts that may get in the way. What about your wife's favorite rose bush!
And last but not least, stairs. It's not easy getting an 800 pound spa up or down stairs. It can be done, but it may require special planning. Sometimes a crane will be necessary to place the spa.
In most cases, we can get a spa where you want it but it may require some preplanning. As you can see, we must communicate!
Energy Efficiency

Most hot tubs require a 240 volt, 50 amp power supply. This is a dedicated line from the main breaker panel in the house to an outside G.F.C.I. breaker box. From there the wiring goes to the hot tub.
Some hot tubs can operate on 110 volts. These are known as plug and play models and plug directly into a wall receptacle. The cord is equipped with a G.F.C.I. built in. While convenient to install, these models can only operate at full jet strength or have the heating system activated, not both at the same time.
When enjoying your hot tub in the colder weather heat loss will occur. To heat it back up the pump will need to be turned to the low setting (little jet action) so the heater will kick on. Additionally, 110 volt models will only heat about one degree an hour whereas 220 volt models heat 5-7 degrees an hour and all features can operate at the same time. These are important things to consider when making your hot tub investment.
Electrical wiring should be left to a qualified electrician and is not a project for the average homeowner. We can recommend qualified electricians for you.
Energy Efficiency Saves You Money
While energy costs are going up, there are many things to look for in a spa to keep the energy costs down. The items below will give you the most energy savings for your money.
Insulation
There are many things that go into making spas energy efficient. The most important and obvious thing to look for is how the spa is insulated. The best spas use multiple layers of closed cell high density foam. Like commercial freezers closed cell foam is water repellent. Don't settle for less expensive open cell foam that will absorb water.
Artesian and Caldera Spas are fully insulated and Nordic Hot Tubs are available with an advanced insulation package as well. This means that the total area between the spa shell and the outside cabinet is fully foamed. You can't do any better than this! This method costs a little more initially, but it will quickly pay for itself. It's kind of like the walls in your house – they should be fully filled with insulation. If they are not, you're most likely losing precious heat.
Spa Cover
The spa cover is also a source for heat loss. Most quality spa manufacturers provide efficient, tight sealing covers. They are made from durable marine grade vinyl and use 1.5 or 2 lb. foam insulation. They are tapered for water run off, and feature child-resistant safety locks to meet ASTM safety standards. However, covers need to be replaced every 3 to 4 years under normal use because they tend to absorb the moisture from the spas hot water. If a tear develops on the outside water will get inside. This water saturation will allow the heat to more easily transfer through the cover. Even the highest grade covers will succumb to this fate eventually. If the cover gets heavy, it's saturated with water and it's time to replace it.
Dedicated Circulation Pump
A dedicated single speed filtration pump will use far less energy to operate than using the large jet pump to perform this task. These circulation pumps operate on around 75 watts of electric where as a large jet pump will use 800 watts or more to run. If noise is an issue, circulation pumps run almost undetected where as a large jet pump will tend to make much more noise. As with the insulation, spas with a circulation pump may cost a little more up front, but will quickly pay for themselves. They are also much cheaper to replace than the large jet pumps when the time comes.
Other things that can save you money will be the efficiency of the heater, jet pump, and to a lesser degree the hydrodynamic efficiency of the plumbing.
How to Buy a Hot Tub

Buying a spa is a big decision. Like shopping for anything else, knowledge iseverything. Before you take the plunge do a little research, ask the dealer a lot of questions.
Here is a checklist of things to consider:
Learn about the spa's specific features, quality of components, ease of use and maintenance.
When the spa is not in use, does the water always remain hot and clean?
Do the jets and jet systems allow you to customize your hydro massage experience?
Ask about the filtration system; is the water filtered 24 hours a day?
Can you adjust the filtration cycles to meet your needs?
Is the heating and filtration system automatic?
Are the spa controls user-friendly?
How is the seating configured; are you able to move about easily?
Get into the spa; does it feel comfortable to you?
Learn how the tub is constructed and its energy efficiency.
The components should be backed by the manufacturers warranty.
How long does the manufacturer been in business?
How long has the dealer been in business?
Does the dealer have local service or do they have to travel a long distance? This can be important in the middle of winter if your spa requires immediate attention.
How much should I spend? How much do you want to spend?
There's a hot tub for every budget! However, don't kid yourself – compare apples to apples. You get what you pay for! A spa with a separate high efficiency filtration pump, full foam insulation, or multiple jet pumps will cost you more than a spa built without these features.
Beware of the inexpensive flashy no name spas sold by some of the big box variety stores. These spas are normally built to a price spec, not a quality specification. Who is going to service it?
Service should be a major concern when you purchase a spa. When you buy a spa off the Internet or stores that don't have factory trained technicians you're gambling with a lot of money.