Pool Chemicals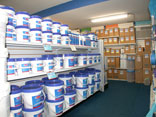 We have a complete line of pool chemicals to keep your water fresh, sanitized and sparkling clean. We have Chlorine, Bromine, Nature2 and Frog sanitizing systems. We also carry pH and Alkalinity adjusting products as well as algaecides, water clarifiers, conditioners, liner cleaners, flocculents, metal and stain inhibitors among other specialty chemicals. We also offer free water analysis for customers using our swimming pool products.

Natural Chemistry Chemicals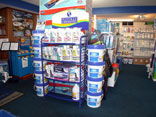 We offer Natural Chemistry enzyme based chemicals for your pool or hot tub. These chemicals feature natural enzymes which combat a variety of organisms effectively in pool and spa water. Natural Chemistry has chemicals for regular maintenace as well as pool openings and closings. Choose Natural Chemistry for easier water care and a more enjoyable pool or hot tub experience.

Pool Cleaning and Maintenance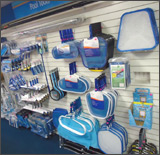 We stock a wide variety swimming pool cleaning, maintenance supplies and accessories. Our store features an entire section dedicated to swimming pool maintenance including pool nets, pool brushes, vacuums and hoses, chorine feeders, heavy duty telescoping poles and thermometers. Our warehouse has has hundreds of swimming pool parts. Please bring in your old parts if possible so we can identify and match them with the proper replacement.

Pool Cleaners

Tired of spending half your summer cleaning your pool instead of enjoying it? We have cleaners for both in ground and above ground pools, including Intex pools.
Our Dolphin brand robotic cleaners take care of cleaning your in ground or above ground pool by simply hooking them up to the power supply, putting the cleaner in the pool and pushing the start button. Within 2-3 hours the pool is clean and ready to enjoy. All debris is caught inside the cleaner.
Our above ground Wahoo suction cleaner uses hose sections that attach to the cleaning head and your pool skimmer and utilizes your pump and filter system.
For Intex or very small pools or hot tubs we have battery operated vacuums that you manually maneuver around the pool to pick up debris and catch it in an internal net. These use either regular or rechargeable batteries.

Swimming Pool Pumps and Filters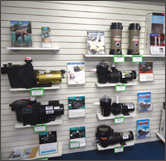 Proper circulation and filtration is essential for swimming pool water to stay clean and refreshing. We offer top of the line pool pumps and filters from industry leaders, like: Sta-rite, Pentair and Hayward. Our retail sales team can help you decide what's best for you. We have above ground and in ground pumps and filters for all size pools.
We also offer variable speed in ground pool pumps. Although initially more expensive up front they more than pay for themselves over time with the tremendous energy savings they provide. Your single speed pump runsconstantly and draws a significant amount of energy while a variable speed pump offers the proper amount of water turnover but does not use a significant amount of electricity. Most electric companies offer rebates to owners who install variable speed pumps on their swimming pools.
Replacement Cartridge Filters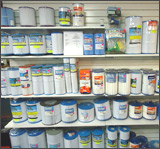 We stock the most common replacement filter cartridges for swimming pools and hot tubs. Whether you are looking for a Hayward, Jacuzzi, Sta-rite, Intex, Pentair or another brand, there is a good chance we stock it. If not we can special order your filter for you. Please bring in your old filter if possible so we can size your replacement properly.

Gas Heaters and Solar Covers

Enjoy your swimming pool more by extending your swimming season with a highly efficient Rheem Gas Pool Heater. Available for natural or propane gas and various sizes to maximize your pool enjoyment. Trap the sun's heat and energy with our efficient Poolstyle Solar Covers available for both above and inground pools. Combine with a Solar Cover Reel System to make covering and uncovering your pool easier. Available from top names: Rocky Roller and Feherguard.

Safety Pool Covers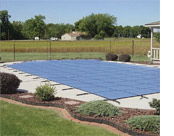 Safety covers offer another great alternative for covering your in ground swimming pool. Often referred to as a "trampoline" cover they are available in mesh or solid material and are primarily used when closing your pool for the winter. They can also be used to secure your pool if you will be gone for an extended time during the swimming season by allowing the pool to operate while being safely covered. Mesh covers allow water to go thru the material into the pool while solid covers have a couple mesh drain panels to allow some water into the pool while the rest of the water is kept off the cover with an auto shut off pump positioned on the cover. They are simple to take off and on and look much better than the standard tarp cover which requires tubes filled with water to keep it in place. They also eliminate the unsightly buildup of water, leaves and debris which accumulates on top of the cover while the pool is closed.
Contact us today for a free quote on a safety cover for your in ground swimming pool.

Pool Fun Stuff
Top name brands: Swim Ways, Pool Master & Swim Line.
Visit our Large Sensational Fun Bath and see our wide selection of pool accessories for fun in the sun! We have dozens of items to choose from – all shapes and sizes for kids and grown up kids!

Pool Noodles
Goggles
Swim Masks and Snorkels
Floating Chairs & lounges
Blow up mattresses (variety of mattresses)
Inner tubes
Swim aids
Arm bands
Swim rings
Large Selection of Loungers
Rubber ducks
Water squirt guns
Water cannons
Surfboards
Throw Rings
Dive Toys
Water torpedoes
Water games
Basketball
and more