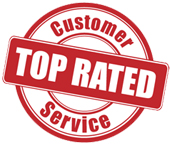 Sensational Spas is committed to providing our customers with the highest level of customer service. We try to go above and beyond in every aspect of our business. Whether the customer is in our retail store, showroom, on the phone, or at their home during a service call our goal is to meet and exceed their expectations.
Our retail store sales team is trained to help customers in a variety of ways. We offer pool and spa care advice and free water testing. We can also help in answering pool and spa questions and offering guidance on proper water chemistry. Our store stocks many products to help our customers enjoy and maintain their spas for optimum enjoyment. Stop in and see what we have for you. Our friendly and knowledgeable sales team can answer your questions or demonstrate any of our numerous items.
Save money with our discount programs We have developed two money saving programs for our customers. Our 15% discount card is given to customers who purchase a new spa from us. This card entitles them to a 15% discount on all future spa chemical purchases. Our other program is the Frequent Buyer Card. This punch card is for customers who have a spa and/or swimming pool who are not on the 15% discount program. Every ten dollars spent on chemicals gets a punch and when all twenty punches are earned the card can be redeemed for $20 towards any in store purchase. A new card will be issued to keep the savings coming. These programs are another way for us to say "thank you" and for you to enjoy the Sensational Difference.
Gift certificates are available for any occasion. They are popular gifts for the holidays, birthdays, and anniversaries and never expire. Have that hard to buy for person? A Sensational Spas gift certificate is the perfect solution. We have a wide selection of pool and spa accessories to make their pool and hot tub more enjoyable. We're sure they will find something they will like and will have you to thank for it. Once we had a brother and sister give their parents a certificate good for a hot tub for their anniversary!!
Contractor and Builder Services are available for our customers looking to install a new spa in conjunction with a new construction or remodel. Our Installation and Design team can communicate directly with your contractor to assure that your new spa will be installed without any surprises. Having performed thousands of hot tub installations gives us the insight to help you plan your install. We can explain the pros and cons (if there are any) of various types of installs so you will truly understand your options. Once again, our goal is your complete satisfaction.
It's easy to buy a Sensational Spa. We offer many payment options including debit and credit cards, personal and business checks, and of course good old green cash. We offer finance options with approved credit through Wells Fargo and Lightstream Lending. Contact our sales team for more information: (269) 429-7171 (ext: 111)
Rent a spa for special occasions such as birthday's, anniversaries, holidays, or graduation parties. We'll bring the spa to you and set it up. You provide the friends and have a great time! Rentals are available by the weekend, week, month, seasonal, or any other time frame you want.
Top Notch Service
"Service after the sale is more important than the sale itself"
This is our motto that our service department stands behind. We believe our customers (those who purchased their spa from us) deserve superior repair service should a problem arise. We feel that if you have purchased a Sensational Spa you deserve quick, efficient, and professional response to your problem. We perform all warranty work on our spas, not a third party.
Our extensive parts inventory insures that should your Sensational Spa have a problem we will have the replacement part in stock and be able to get your hot tub repaired right away. Our service vehicles are stocked with many parts so when we do have a service issue it can be rectified on the spot. Many new sales are attributed to word of mouth when people hear how we really take care of our customers after the sale. Anyone can sell a spa, but will they service it after the sale? Sensational backs up every sale with the best service team in the area. It's another example of the Sensational Difference
We have factory certified technicians who have also had industry training in the fields of Diagnostic Assessment, Repair Technique, and Customer Service. We also provide in-house service training for our technicians and mechanics. Our service coordinator has been in the industry since 1985 and is one of only a handful of N.S.P.I. (National Spa and Pool Institute) certified technicians in the state if Michigan. Our service team, with over 100 years of combined experience, is here to help if you need it.
---
To help ensure a long life for your spa we offer the following services:
Repair service on all Sensational Spas. Limited repair service on hot tubs not sold by Sensational Spas (as our schedule allows). We give priority to our spas.
Crystal Clear Spa Care: We will check spa operation, test water chemistry and adjust as necessary, chemically clean filters, and replace sanitizing cartridges.
Complete System Check: Includes inspection of all electrical components and equipment for proper operation and signs of potential problems such as leaking motor seals, corroded pressure switches, etc. Jet operation will be checked as well as cover condition.
Deluxe Spa Detailing: This service is recommended at least twice a year depending upon spa usage. We will drain your spa, clean and wax the shell, then refill the spa with our treated and pre-filtered water from our hot-water truck. We will chemically clean or replace your filter(s) and clean and condition your spa cover. Finally, we wipe down the cabinet and steps.
Spa Closings: Drain spa and completely blow water out of the equipment and plumbing harnesses and adding anti-freeze. Essential for seasonally used spas. DO NOT JUST DRAIN THE SPA!! Have us properly winterize your spa.
Spa Openings: Clean spa shell and fill with pre-filtered water then balance water chemistry, install cleaned or new filter(s), clean and condition spa cover, install new sanitizer cartridge. Wipe down spa cabinet and steps.
Spa Relocation: Common service for those who move to a new house or sell their spa to a friend or family member. Also available for same site moves.