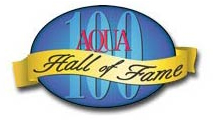 Choose an industry leading spa dealer. Sensational Spas has been recognized as an industry leader earning the Aqua 100 Dealer Award multiple times. This is not a sales award but overall business award. Aqua Magazine is our industry's most prolific and trusted source of news, updates, and honors. Only select businesses get considered for this prestigious award and very few get chosen as an Aqua 100 company.
Aqua 100 dealers are selected by the following criteria: "Aqua Magazine profiles the top 100 spa and pool dealers in the country. These outstanding companies are chosen not by their size or sales volume, but by the overall professionalism they display in the areas of customer service, store design, product knowledge, craftsmanship, and advertising/promotion".
Other awards and recognition:
Sensational Hot Tubs has been Awarded the 2019 Customer Preferred Award, (The Best the Community Has to Offer!) Nordic Hot Tubs Best of the Best award given to top Nordic dealers who increase sales over prior year and truly support the Nordic brand through display, advertisement, and employee sales and service training. Nordic started this award in 2003 and Sensational Spas has received this award 2003 – 2006.

Nordic Hot Tubs Presidents Award given to only five recipients worldwide. This award is based on the above Best of the Best criteria and additionally takes into account the dealerships support of Nordic Hot Tubs through product suggestions, innovative feedback, and willingness to move ahead with new product design. This award was created in 2007 and we are proud to be a multiple-time recipient.
Affiliations
Sensational Spas is proud to be a member of the following organizations:
N.F.I.B – National Federation of Independent Businesses
N.S.P.F – National Swimming Pool Foundation
Harbor Country Chamber of Commerce
APSP – Association of Pool & Spa Professionals
Sensational Spas is proud to support Berrien County Relay for Life, Local Youth Sports Programs, as well as other local charities and our schools. We believe in giving back to our community for the support it has given us.