The words "hot tub" and "spa" are often used interchangeably. When it's time for you to buy a hot tub, you'll want to consider the best value for your budget within the "portable" hot tub or spa category. Portable means a self-contained freestanding unit that can be moved (if circumstances make it necessary or desired) from one location to another.
Here are a few important factors to help guide your next hot tub purchase…
THE RIGHT FIT

Size: Spa size is typically affected by the available space for the hot tub in your desired location, and by the number of people you want your hot tub to hold.
Comfort: The comfort of the hot tub's seating is very important. To ensure that your comfort level is met, be sure to sit in the spa before purchasing. Comfort factors include seating depth and variety, footwell space, lounge fit, access to hot tub controls, ease of entry and exit, and cushioned headrests.
---
HOT TUB THERAPY

Hydrotherapy: This area is highly subjective. Some people want a powerful hydromassage experience while others intend to use their hot tub primarily for soaking. If you're looking to maximize your hydromassage experience, consider the types of jets and the jet placement. Don't be fooled by jet count alone. What's more important is jet variety and how the jets are positioned within the seats/lounges throughout the spa. A hot tub that maximizes the hydrotherapy experience will address all of the body's major muscle groups. You'll also want to consider jet flow adjustability, the features that allow you to customize the massage by regulating the amount of air and/or water supplied to the jets.
---
MANUFACTURER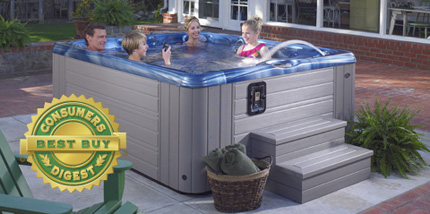 Reliability:
Buying a hot tub that will last over time is an important consideration for most potential spa owners. Look for a spa that is well-built, uses high-quality materials and components, and is backed by a reputable dealer and spa manufacturer. Length of time in business and reputations can tell you a great deal. Read reviews online. Finally, ask for a copy of the warranty, and determine if the dealer and hot tub manufacturer are willing and prepared to support it.
Safety: Check to be sure that the hot tub you are considering is listed by a recognized independent testing agency such as UL or ETL. Also, make sure that you use a qualified electrician to connect the electrical service to the spa. Other considerations: a locking spa cover, always apply common sense when using the spa and adhere to the safety recommendations in the spa Owner's Manual.
---
SPA MAINTENANCE COSTS

Ease of Maintenance: Most likely, you're looking for a hot tub that won't require a lot of your time to keep the water clean and clear, and that will preserve its appearance over time.
To maintain good water quality, consider a Corona Discharge (CD) ozone generator. This type of ozone generator will reduce the amount of sanitizer needed, and help keep the water crisp and clean. CD systems last longer than alternative ozone systems. Also, consider the type of filtration system and square footage of filtration. Generally, "premium" spas feature small circulation pumps that continuously filter the water and provide the necessary flow to allow the heater to constantly maintain the set temperature.
Energy Efficiency: Your spa's operating cost will be primarily determined by its ability to retain heat. Ensure that the hot tub has effective insulation for the shell and plumbing. Full foam insulation surrounding the shell, combined with a custom-fit spa cover that forms an insulated barrier around the bar top, are essential to keeping heat in and cold out.